Page 1 of 2
Supernatural in the news this week.
Catching Up with Current and Former Cast Members
Happy News for Gil McKinney!
Thrilled to announce the birth of our beautiful Vivienne James. 6 lbs 3 oz.,21.5 inches. And so proud of her mom. ❤️ pic.twitter.com/qXPjXhpoqq

— Gil McKinney (@GilMcKinney) September 4, 2016
Denver Nerd Alert News
had an
Interview sci-fi fan favorite actor Tahmoh Penikett
.
With the Emmy's fast approaching, Sterling K. Brown (Gordon Walker) tells the
Guardian
'I allow myself to think about winning an Emmy'
. Sterling's portrayal of Chris Darden has also been nominated for a
Golden Derby Award
. Sterling's new show
This Is Us
is getting a lot of attention as well.
6 Reasons Everyone Is Talking About The New Fall Show, 'This Is Us'
.
EOnline
gave
Rapid-Fire Reviews: Lots of Love for This Is Us and More Honest Takes on NBC's New Shows
.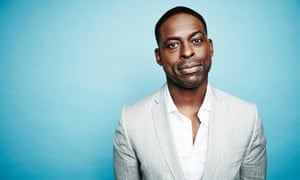 Kathryn Newton's (Claire Novak) prowess at golf will be featured at the Emmy Golf Classic next week
Getting ready to play for @EmmysFoundation television academy #emmygolfclassic #nextweek https://t.co/l2c8eZ2WiG

— Kathryn Newton (@KathrynLNewton) September 7, 2016
Osric Chau's 'On the Hunt' campaign ended after selling
1129 shirts
.
Louden Swain will be releasing a new album in 2017.
New album No Time Like The Present will be avail 1/13/17! More info soon! #NewSwain #NoTimeLikeThePresent #SPNFamily pic.twitter.com/HgwulDBesI

— Louden Swain (@LoudenSwain1) September 7, 2016
You'll be able to get the first single at the end of the month
1st sngl off #NoTimeLikeThePresent called "Amazing" avail @iTunes 9/30! Hear NOW@ https://t.co/9gcd5dNCMU #SPNFamily pic.twitter.com/K1wL8uROFz

— Louden Swain (@LoudenSwain1) September 8, 2016
Rob Benedict posted a
new episode of Will You Accept This Rose?
.
Richard Speight, Jr. is in the new video by Slayer,
Pride in Prejudice
(Warning for gore)
Richard's new film
The Evil Gene
has just been released
on VOD and DVD.
Curtis Armstrong (Metatron) will be publishing his memoirs next year.
Yes! My memoir will be published next July by @StMartinsPress! Putting the final touches on it now! #nerdsrule https://t.co/RqZ43HlPh0

— Curtis Armstrong (@curtisisbooger) September 10, 2016
Kim Rhodes talks about Steve and the Neurotics new album 'The End of Life As We Knew It'.
TheWalkingDead.com
tells us
How Jeffrey Dean Morgan Came to Own a Candy Shop With Paul Rudd
.
PopSugar
shared
T
he 33 Best Moments From Jensen and Jared's Supernatural Bromance
.
Hit *Next* to catch up with Crew, Show Tidbits and Convention News!