- Cast and Crew -

Talk Nerdy With Us
had exclusive interviews with
Lee Rumohr
(Jesse Cueves) and
Hugo Ateo
(Cesar Cueves) from The Chitters.
Tech Times
has an
Interview [with] Brittany Ishibashi [Maggie Zeddmore] On 'Teenage Mutant Ninja Turtles,' 'Supernatural' And 'Grace And Frankie'
.
A former cast member has snagged a plum part
Wendigo's own #AldenEhrenreich is now #HanSolo! (Remember? He was young Ben Collins?) My geek brain is exploding. #Supernatural

— Eric Kripke (@therealKripke) May 6, 2016
James Marsters and Charisma Carpenter were listed in
TV Fanatic's
13 Best Guest Appearances on TV
.
After the announcement that Robbie Thompson is leaving the show Hypable posted
'Supernatural': Top 5 Robbie Thompson-penned episodes
.
We have this picture of Richard Speight, Jr. on the set of his new movie
Death House
Annual "physical" anyone?
@DeathHouseMovie@HarrisonSmith85@Felissa_Rose@StelioSavante@TiffanyShepis#horrorpic.twitter.com/7lyBcCt9Um

— Yan Birch (@yanbirch) April 29, 2016
Briana Buckmaster tweeted pictures from her new movie
The Plateau
Look who's playing my husband in #ThePlateau. It's @actorDanPayne! (Angel Abner) #spnfamilypic.twitter.com/7vMoPML6ZY

— Briana Buckmaster (@OfficialBrianaB) April 27, 2016
Here's where you can find any upcoming info y'all! And here's a set pic. Cause reasons. https://t.co/DhSAHftluLpic.twitter.com/53fB7MrrQc

— Briana Buckmaster (@OfficialBrianaB) April 30, 2016
Fresh from playing Christopher Darden in The People vs O.J. Simpson, Sterling K Brown (Gordon Walker) has been cast in a new drama about Thurgood Marshall called Marshall. We have articles from
Variety
Sterling K. Brown Joins Chadwick Boseman in Thurgood Marshall Movie
and
Vulture
Now Sterling K. Brown Gets to Be the One Put on Trial, in Chadwick Boseman's Thurgood Marshall Movie
.
In
SciFi Now
Supernatural: Jared Padalecki talks fandom and the future
.
Supernatural was mentioned by
Variety
in
When Character Deaths (and Revivals) Work — and When They Don't
.
Hitfix
included Supernatural in
'

Game of Thrones' isn't the only show with a crucial 'Home' episode
.
Pop Matters
talks about the Supernatural recaps in
Recaps in the Age of Binge Watching
.
Movie News Guide
listed
1
0 Reasons Why Sam Winchester From 'Supernatural' Is So Awesome!
.
Jesse and Cesar made
Talk Nerdy With Us Weekly TV Superlative Awards (April 24th-30th)
as most lovable characters
Lisa Berry joined Afterbuzz for their review of this week's episode
Fangasm
previews The Ladies of SPN Convention, that will be held in Seattle, Washington in
Love the Kickass Women of Supernatural?
. Tickets are still available.
There's a ticket type for EVERYONE! Livestream, 2-day, Single Day, and JUST the concert! #SPNLadiesCon RT/Share/RSVP pic.twitter.com/luRB9hLJ8i

— Ladies of SPN Con (@LadiesofSPN) February 9, 2016
#SPN#Supernatural#SPNLadiesCon Buy tix https://t.co/wM3H3wCCPS & Photo Ops/Autos: https://t.co/8SepXpNQBapic.twitter.com/CA2geLa5yj

— Ladies of SPN Con (@LadiesofSPN) May 8, 2016
Creation Stands has a new offering.

Supernatural's Jensen, Jared and Misha hand signed photographs finally available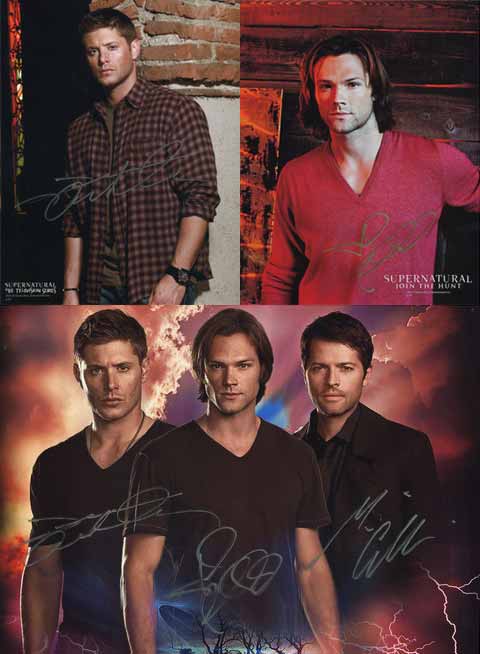 After years of trying we are
VERY PLEASED
to present to their adoring public hand signed autographed limited in number full color glossy images (shot from studio source art) of
Jensen Ackles
as Dean,
Jared Padalecki
as Sam, and a special edition of
Jensen, Jared and Misha
all pictured and signed as their super-popular characters.
For so long legitimate autographed photos of these superstars have been available
ONLY
to those lucky enough to be able to attend
The Official SUPERNATURAL Conventions
and the very few other events the guys have attended elsewhere, and we've seen so many fans be taken advantage of by on-line offerings that clearly are not truly signed by our fave stars.
So, through a special relationship, where a portion of the profits goes to charity, we are immensely proud to present the above images to YOU today!
Now you will never have to wonder again whether your autographed photos bought on line are legitimate!
Click on through to
www.creationstands.com
to find these true prized items as well as a ton of other licensed SUPERNATURAL products and know that you are also helping to support some great charities backed by the guys.
Thanks to all for your continuing support!
Your friends at CreationStands and Creation Entertainment